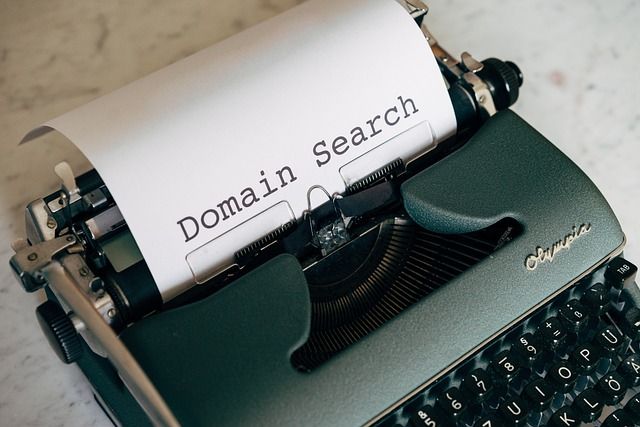 The Art of Picking a Winning Domain Name
When embarking on a new website journey, one of the most critical choices you will face is selecting a domain name. Your domain name serves as the online address where visitors can locate your website, making it vital to choose a name that is both memorable and pertinent to your brand or business.
Explore in-depth guidance on selecting a domain name that sets your website apart from the competition. From using domain name generators to researching competitors, learn how to create a domain name that reflects your brand identity and ensures long-term success in the digital landscape.
Getting Started
Here are some key factors to consider when selecting a website domain name:
Keep it short and simple: Aim for domain names that are easy to remember and type. Ideally, your domain name should be no longer than 15 characters. Avoid using complex words or phrases that might be challenging for people to spell or remember.
Use keywords wisely: Including relevant keywords in your domain name can improve your website's visibility in search engine results. However, don't overdo it with too many keywords, as this can make your domain name appear spammy.
Make it brandable: Your domain name contributes to your brand identity, so choose something unique, distinctive, and memorable. A name that sets you apart from your competitors is ideal.
Avoid numbers and hyphens: Using numbers or hyphens in your domain name can make it harder to remember and seem unprofessional. Stick to letters and words whenever possible.
Consider your target audience: Keep your target audience in mind when selecting a domain name. If your website targets a specific geographical location, consider including the location in your domain name. If your website targets a specific industry or niche, consider incorporating relevant industry keywords in your domain name.
Check for trademark conflicts: Before registering a domain name, search for trademark conflicts to avoid legal issues and potential lawsuits down the line. You can check for trademark conflicts by searching the USPTO's Trademark Electronic Search System (TESS).
Choose a memorable TLD: Your TLD (top-level domain) is the extension at the end of your domain name, such as .com, .net, or .org. While .com is the most common TLD, many other options are available, including country-specific TLDs and industry-specific TLDs. Choose a TLD that is relevant to your website and easy to remember.
Consider social media availability: In today's digital age, take social media availability into account when selecting a domain name. Ensure the domain name you choose is available as a social media handle on popular platforms like Facebook, Twitter, and Instagram.
Make it easy to spell: Choose a domain name that is easy to spell and pronounce, which can help with brand recognition and recall. Avoid using uncommon or complex words that people might struggle to spell or pronounce.
Think long-term: When selecting a domain name, envision using it for many years to come, even as your business or brand evolves and grows.
Additional Considerations for Selecting a Domain Name:
Domain name generators: If you're struggling to come up with a unique domain name, consider using domain name generators. These tools generate potential domain names based on keywords and phrases you provide, helping you find creative options for your website.
Research competitors: Investigate the domain names of competitors within your industry or niche to gain insight into effective naming strategies. This research can help you identify patterns or inspire your domain name selection.
Domain registration and hosting: Understand the difference between domain registration and website hosting. Research popular domain registrars and hosting providers, considering their pros and cons, to make an informed decision for your website's needs.
Domain privacy protection: Consider domain privacy protection services, which can shield your personal information from being publicly accessible through the WHOIS database. This protection can help reduce spam and maintain your privacy.
Domain renewal and expiration policies: Familiarize yourself with domain renewal and expiration policies when registering a domain name. Be aware of automatic renewal, expiration grace periods, and redemption periods to avoid losing your domain name due to missed renewal deadlines.
Cost considerations: Address the costs associated with domain registration, renewals, and premium domain names. Budget for these expenses and recognize the importance of investing in a high-quality domain name for your website's success.
By including these additional considerations in your decision-making process, you will be better equipped to select the ideal domain name for your website, further ensuring its long-term success and online visibility.
Conclusion
In conclusion, choosing a domain name for your website is a vital decision that significantly impacts your online presence. By keeping these updated key factors in mind, you can select a domain name that is both memorable and relevant to your brand or business, helping you stand out in a competitive online marketplace.
Need Assistance Selecting a Domain Name?
If you're a business owner looking to establish a strong online presence, selecting a domain name and designing a website that accurately represents your brand is crucial. Your website is often the first point of contact between you and your customers, and it's essential to make a positive first impression. At MBCS, we understand the importance of selecting the right domain name and designing a website that accurately reflects your brand and appeals to your target audience. Our team of experienced professionals can help you with every step of the process, from selecting a domain name that's both memorable and relevant to your business, to designing a website that's visually appealing, easy to navigate, and optimized for search engines. With our help, you can establish a strong online presence that helps you stand out from the competition and reach your target audience. To learn more about our services and how we can help, please visit our website at www.microbizops.com or contact us today to learn more.